To contribute to the efficient generation of electric power and reduce loss as far as possible, Mitsubishi Electric is taking active measures to save energy and reduce CO2 and other greenhouse gases with its diverse range of energy systems, including power generation systems, power transmission and distribution systems, and total solutions for energy saving in factories, commercial buildings and shops.
Product line-up
Power systems
Transmission & distribution systems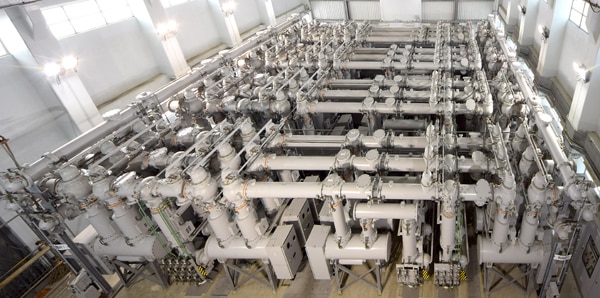 Gas insulated switchgear at the HK Electric Lamma Power Station
Mitsubishi Electric is a leading developer and manufacturer of power transmission and distribution systems on a global scale. Our high-voltage switchgears, transformers, protection & monitoring systems and power stabilization devices are core products in commercial and private utilities systems alike, and our control systems are installed to ensure stable operation that is both environment-conscious and highly efficient.
Transformers
Gas insulated transformers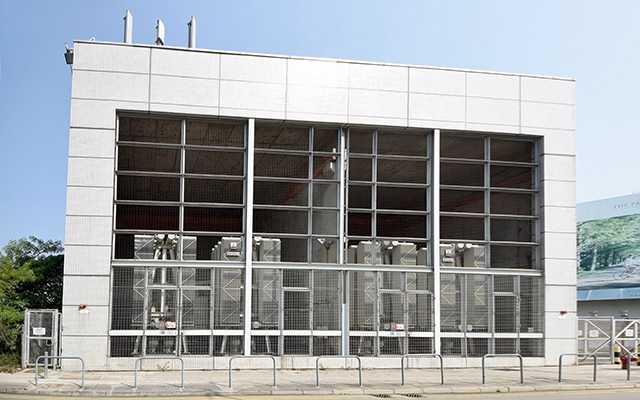 Gas insulated transformer at the HK Electric Quarry Bay Substation
The demand for fire-resistant, non-flammable electric equipment for urban use is increasing and Mitsubishi Electric manufactures highly reliable SF6-Gas insulated transformer by adopting the excellent insulating and non-flammable gas which is wide accepted on using in electrical equipment.
Mitsubishi Electric SF6-Gas insulated transformer are highly recommended for installation in cities and towns as underground substation where fire safety is of primary importance, in hydroelectric-power plants and water treatment plants where the water must be kept free of pollution, and in other plants where the operating reliability must be high.
Oil insulated transformers (up to 1000kV)
Oil insulated transformer at the CLP Tai Wan Substation
Since the commencement for transformer production in Japan, Mitsubishi Electric has held a leading position in fields of large power transformer design and manufacture. Mitsubishi Electric transformers are manufactured on the basis of over 70 years of transformer manufacture and continuous research efforts toward improvement of the technical skills and materials have earned for these products a high reputation and wide acceptance.
High-voltage switchgears
Gas insulated switchgears (GIS)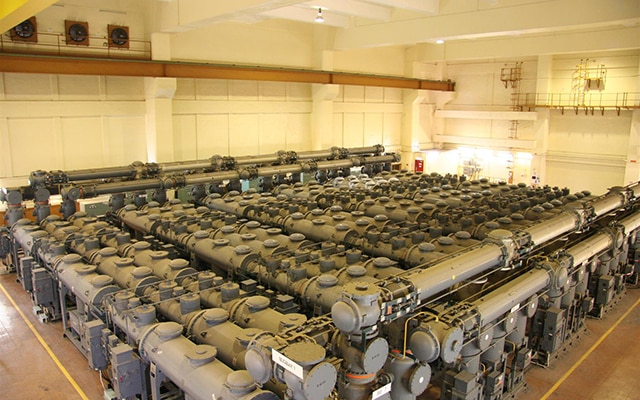 Gas insulated switchgear at the CLP Yuen Long Substation
The advantages of Mitsubishi Electric GIS are numerous including space savings, flexible layout designs, simple construction (e.g. short installation time), minimal maintenance, and excellent reliability and safety.
Distribution equipment
Cubicle type gas insulated switchgears (C-GIS)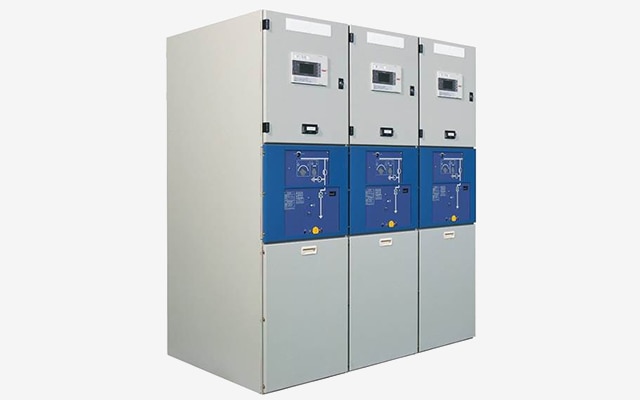 Type: HS-X-1 C-GIS(22kV), HS-X-A C-GIS (11kV) , HS-X-3 C-GIS (22kV/33kV)
Mitsubishi Electric has rich experience in developing switchgear panel, vacuum circuit breaker for the LV-MV distribution network since 1979 and cubicle GIC (C-GIS) is newly developed for the replacement of the traditional air-insulated switchgear panel to overcome the large capacity required by the client and improve the reliability.
Cubicle GIC (C-GIS) that is a switchgear panel operated in 11-33kV class distribution system includes circuit breaker, disconnector, earthing switch, current transformer and voltage transformer integrating into the cubicle panels.
Features:
Cubicle-shaped housing enables significant space saving and reduces equipment weight
High Voltage Parts in an enclosure with dry compressed air or SF6 gas for insulation
Panel size similar to the traditional switchgear panel that can be replaced at site without any shut-down.
Flexible configuration of the cable connection direction
Easy to mount the protection relay on the face of panel
Distribution transformers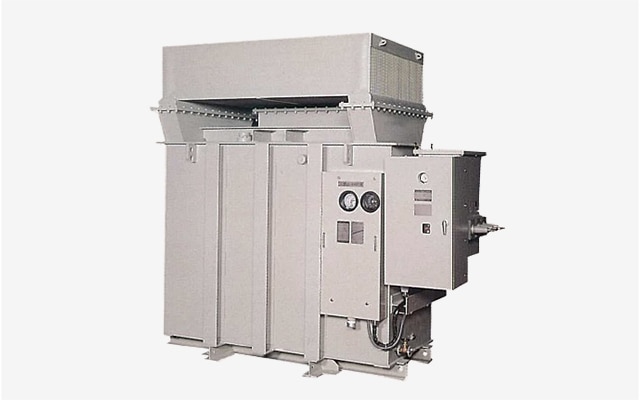 Mitsubishi Electric developed the SF6 Gas insulated distribution transformers with an advantage of the non-flammable characteristics which are suitable for located at the indoor floors of the commercial building and residential building.
Since it is non-flammable electric equipment, the fire fighting systems are not required for this type transformer. The rating class is 6.6kV, 11kV and 22kV.
Protection & monitoring systems
Protection panel at the HK Electric North Point Substation
Mitsubishi Electric provides different kinds of protection relay which contains the necessary elements for the protection of extra high voltage power and transmission system and also distribution network facilities and devices such as transformers, generators, motors, GIS etc. In order to ensure the life and the operation condition of the power systems , monitoring system on the power equipment is very essential for the client so as to check the healthiness of their equipment based on the monitoring system. Client can understand equipment's healthiness and make a plan of maintenance or replacement can be implemented in advance.
Protection systems
MELPRO series (Relay)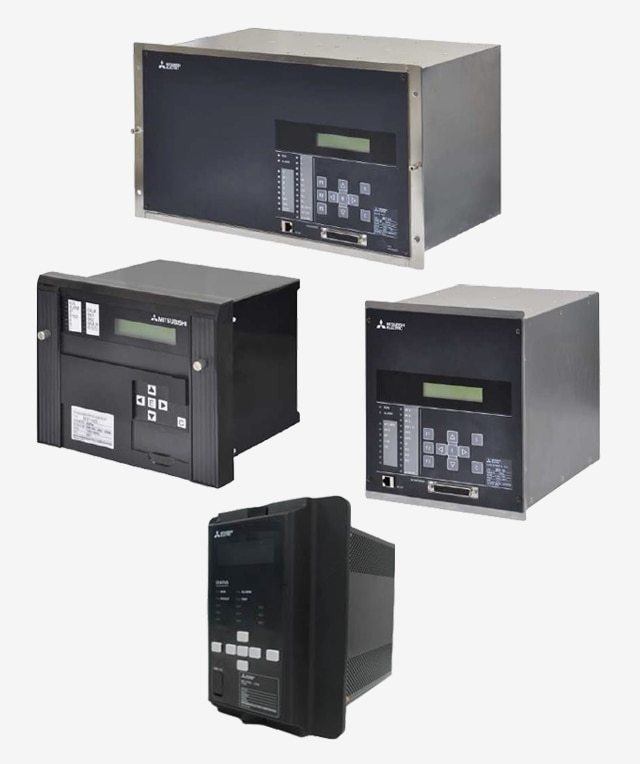 Type: MDT-HA, MDC-HA, MRD-HA. MBP-H1A, MFR-H1SA, MBP-H3SA
Features:
Relay for substation equipment protection
Relay for line/transformer/busbar protection
Redundant communication of IEC61850
IED (Integrated Electronic Device) and MU (Merging Unit) for process bus of IEC 61850
MGP-H1A & MGP-H2A Generator Protection and Transformer Protection Relay
MELPRO-HSB Series Type MFP-H1SB for 6kV-33kV Class distribution Network
Provide suitable protection elements for feeder protection applications
Easily configurable
Remote communication option includes IEC 61850 ethernet communications.
Up to 5 disturbance recorder fault records can be stored (24 samples/cycle) and can be analyzed by using PC Tool software.
Partial discharge monitoring systems
Online partial discharge monitoring system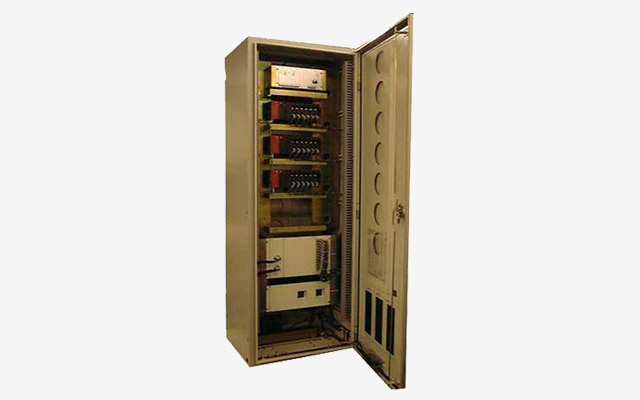 Mitsubishi Electric online partial discharge monitoring system can detect the partial discharge activity continuously and provide an alert in advance through its diagnosis before the insulation breakdown is happened during the GIS operation.
This monitoring system can also be used during the High voltage commissioning test recommended by CIGRE that can detect any potential insulation breakdown before in service.
Features:
The sensitivity of the detection can reach 5pC as recommended by CIGRE
More than a hundred of sensor (external or internal) can be monitored
Protection Investigation
Applicable to new and existing GIS
PD Trend Data and Plot Display
POW (Point on Wave) Display can help the operator to understand the Partial Discharge Type
Window Based Software operation
Synchronous switching controller (SSC)
Synchronous switching controller type SSC-SP1
Features:
Switch the circuit breaker in the suitable phase to minimize the switching surge.
Predict precisely the variations in the operation time of circuit breaker with respect to the ambient temperature, control voltage, operating pressure and number of times of operation
Meet all the requirements concerning electromagnetic compatibility in accordance with IEC 60255 and ANCI C37.90, mechanical shock with IEC 60255-21 and environmental conditions with IEC 60255-6.
Substation control and monitoring systems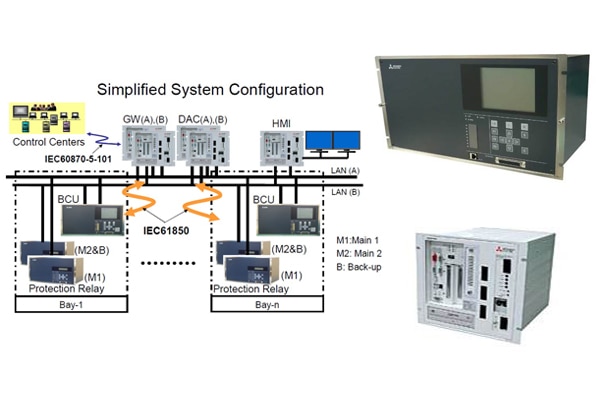 Features:
Redundant (Hot-Standby) system configuration
Long term life time design equipment
Human friendly HMI
Applied IEC61850 communication including GOOSE
Time synchronization by NTP/SNTP
System Configuration Tool including Sequence
Logic Editor for User configuration
Linux (Red Hat) Operating System
Key Components in System
Station server (DAC) :MR4000E
Gateway (GW) :MR4000E
Human Machine Interface (HMI) :MR4000E
Bay Controller Unit(BCU): MR4010E
MERGING Unit (MU)
Dissolved gas analyzer (DGA)
Features:
On-line automatic measurement of the 6 combustible dissolved gases and moisture in the transformer oil
The whole operation sequence of this apparatus is controlled by a microcomputer.
Periodical measurement of TCG (Total Combustible Gas) and each component gas level. TCG and component gases (H2, CO, CH4, C2H2, C2H4 and C2H6) which are the most suitable and effective index for detecting an inner fault of transformer are measured automatically at preset interval.
Monitoring of TCG, each component gas level, TCG increasing trend and moisture
This apparatus does not consume oil as oil is returned to the transformer after measurement.
Easy operation
Equipped with the RS232C, RS485/232 converter, Ethernet/RS232 converter, optical converter (optional)